Industrial Tank Cleaning Services Malaysia
With 10 years of experience, cutting-edge technology, and efficient cleaning techniques - we we have developed a truly revolutionary approach in providing industrial tank cleaning services

We perfectly understand your need for a speedy cleaning process so you can reduce downtime. Every moment your tanks are out of commission, profits slip through your fingers.
Indeed, a professional and efficient cleaning partner is the backbone for the profitable functioning of your factories, buildings, and plants.
However, many business owners do not know how to select the best tank cleaning company and end up making unnecessary losses.
Don't be fooled by the bold claims made by some industrial cleaning companies claiming they are the "top" or "best" when they do not have any evidence to back up their claims.
Below, we will pull back the curtain and reveal the secrets to selecting the best tank cleaning team for your industrial needs.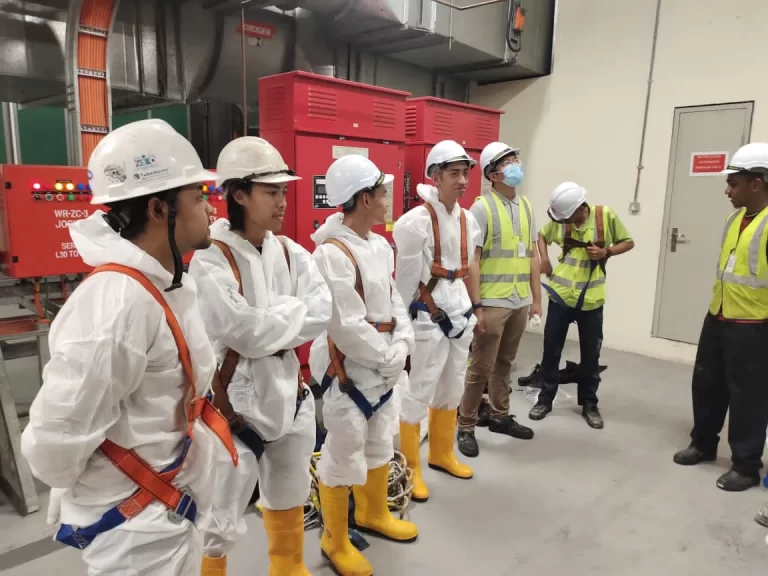 What to look for when hiring an Industrial Tank Cleaning Services Provider
Pay attention here. Here is what many businesses fail to consider when looking for a tank cleaning partner. Failure to properly select the right cleaning partner will punish in terms of cost and headaches.
The most important criterion is not what you would normally expect…
Many companies make the unforgivable mistake of thinking that cost and quality are the only important criteria to look at. That cannot be further from the truth.
While both are important, they are not tangible ways of assessing whether a tank cleaning service provider is right for you.
For example, a cheaply-priced tank cleaning company does not always do the job well and will incur more costs in the long run. And to assess quality, it is not enough just to look at the number of years.
So what is the most reliable indicator of the quality and professionalism of a tank cleaning company?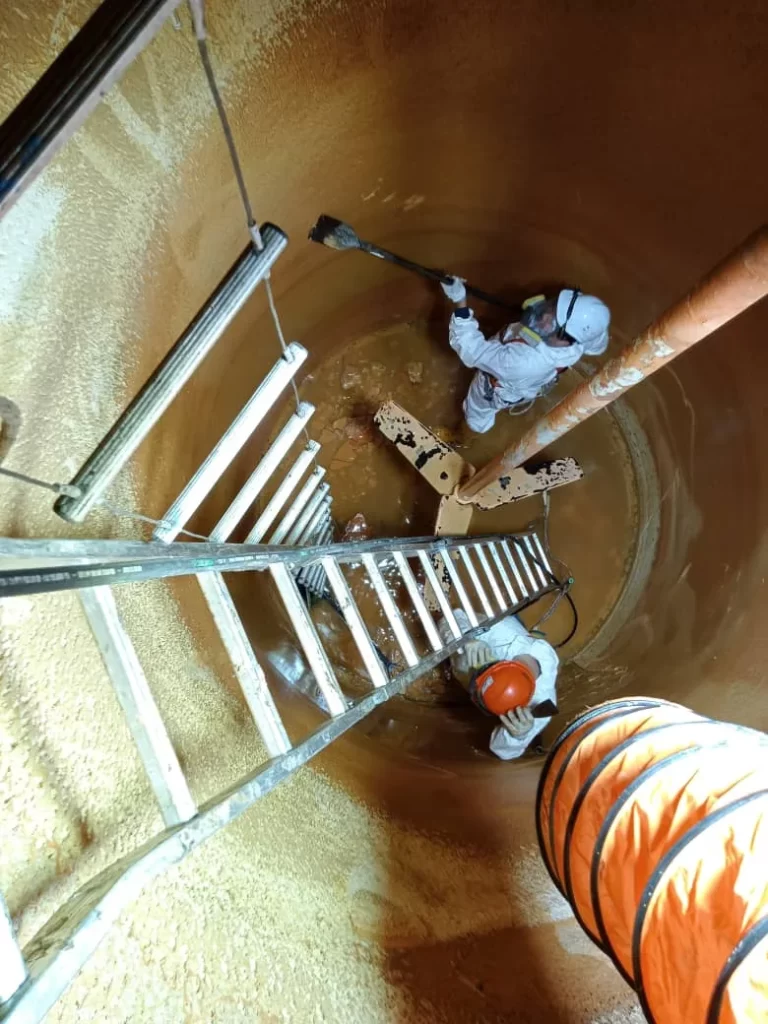 The answer to that is safety and compliance to industrial standards.
The reason is brutally simple - an industrial tank cleaning services team that stresses safety also does not cut corners, reduce quality or rush to get the project completed.
And if you think that safety is costly, wait until the hidden costs of hiring cheap companies show up.
Poor safety compliance when cleaning tanks can result in injuries or fatalities, which consequently prolong downtime, and downtime costs a tonne.
It can also result in contamination, resulting in the loss of a whole batch of products.
In fact, service providers that focus on safety actually get the job done faster - because they strictly document their procedures and generously invest in the latest technology and equipment.
Now, here's the ugly truth about the tank cleaning industry: hundreds of tank cleaning employees die on the job each year.
When you look at the pictures below, you will understand why: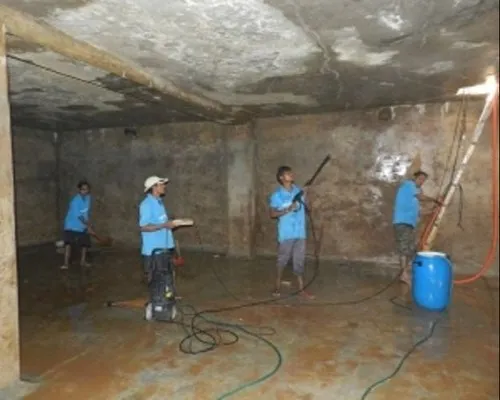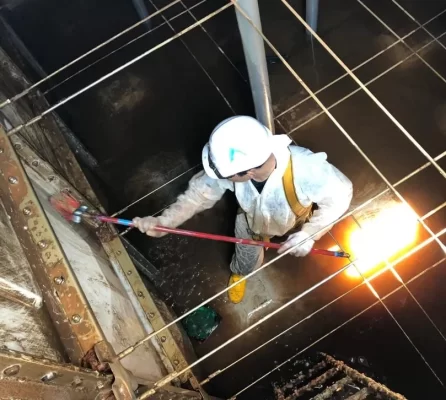 In Malaysia, businesses that provide industrial tank cleaning services must comply with safety guidelines, which is ICOP 2010, which you may find here.
When you're looking for a tank cleaning service provider, make sure you hire one that is committed to safety.
Our commitment to safety and risk mitigation has garnered recognition and certifications from prominent institutions. We let our certificates speak volumes about our dedication:
The second most important criterion to look for is efficiency.
But what exactly shows whether the team is efficient or not? Two things: Experience and the technology they invest in.
Firstly, look for companies that have at least a few years of experience in cleaning tanks.
Secondly, look at the pieces of equipment in their arsenal. Actually, the equipment used is far more superior in determining efficiency.
The latest technology in tank cleaning is the use of robots to automatically clean tanks periodically or to reach places where humans cannot reach. It's a game-changer that guarantees unparalleled efficiency and mind-blowing results.
If you can get a team with these kinds of equipment, they are the best.
Just to remind, if you think that high-tech cleaning companies are costly, think about the cost of downtime. The cost of hiring a tech-focused company is only a fraction of the cost of downtime!
Myda Risk & Safety Sdn Bhd is the Malaysian pioneer in using robots for the purpose of cleaning industrial water tanks. We pride ourselves on having this competitive edge.
The third most important criterion is the reputation of the company
The questions to ask here are:
How many clients has the company served in the past?
Who are their most notable clients?
No one wants to settle for the "second best". Our track record is as solid as they come. We've served an illustrious clientele, including industry giants who demand nothing but the crème de la crème.
Join the ranks of the elite and experience the difference firsthand.
Other criteria to look for:
Flexibility in scheduling
You certainly do not want a tank cleaning team that cannot fit your time. Find one that can suit your operation's schedule rather than the other way around.
Cost
Most companies start with an allocated budget in mind before hiring a vendor. However, this might close doors to hiring better companies that save more costs in the long term although the costs are higher upfront.
What we recommend is shortlisting companies based on quality first, then determine what is the real cost at the end of the day.
If you're looking for an industrial tank cleaning company in Malaysia that ticks all the criteria above, then you might want to consider Myda Risk & Safety Sdn Bhd.
With a decade of experience, we have earned our reputation through serving notable clients:
Effortless and Efficient Delivery Process
Let us do the job, while you sit back without worry
We understand the importance of timely and accurate quotes. It is necessary to retrieve the right information and data to generate quotation according to your requirements.
Communication with our clients is key to ensuring that we understand their unique needs and objectives. Our team has developed a series of questions designed to extract the necessary information in a highly professional and helpful way.
With our expertise and commitment to meeting deadlines, you can trust us to deliver top-notch service every time. We are dedicated to meeting your needs and ensuring that your operations run smoothly and efficiently.
Frequently Asked Questions
Contact us using the form below so that we can help improve your operations to maximum efficiency.
Or dial in our hotline number: 60199325632
Our Office
No 27, Jalan Nilam 1/9, Subang Hi-tech Industrial Park, 40000 Shah Alam, Selangor
Our Socials