Chemical Tank Cleaning Services Malaysia
Protect your workers, assets, and profits by transferring all the risks of chemical tank cleaning services to certified professionals.
With a decade of experience, cutting-edge technology, and efficient cleaning techniques - we significantly reduce downtime and maximise production, safely.

The Overlooked Factor That Determines the Best Chemical Tank Cleaning Services Provider
It's not efficiency.
While efficiency is crucial, there's something else that tops the rank of priority.
It's not cost either.
Setting a budget might limit your options and prevent you from hiring superior companies that offer long-term cost savings.
So, what should you prioritize?
The answer to that is… safety and compliance.
You see,
Commitment to safety is the most reliable and tangible indicator of professionalism and efficiency of an industrial service provider - and it is the surest way to reduce costs in the long run.
The reason is unsurprisingly simple - a cleaning team that stresses safety also does not cut corners, reduce quality or rush to get the project completed.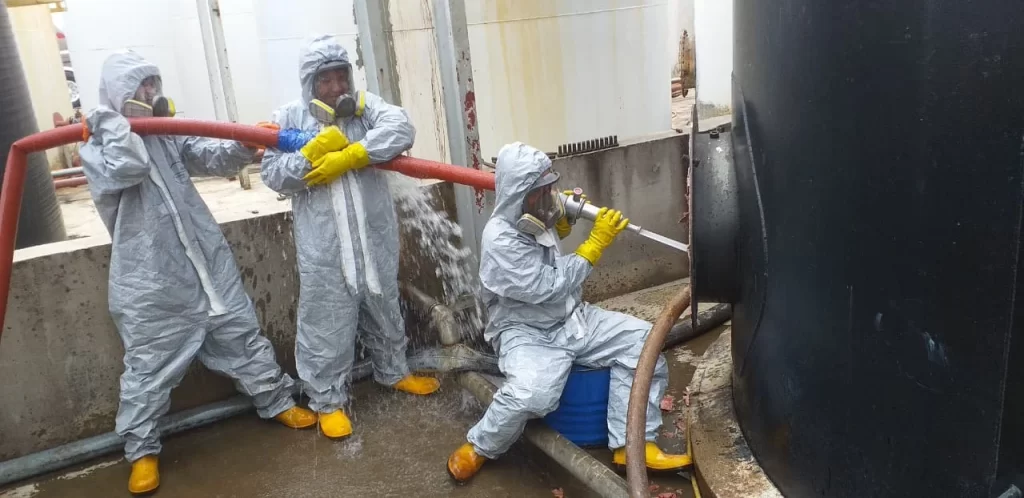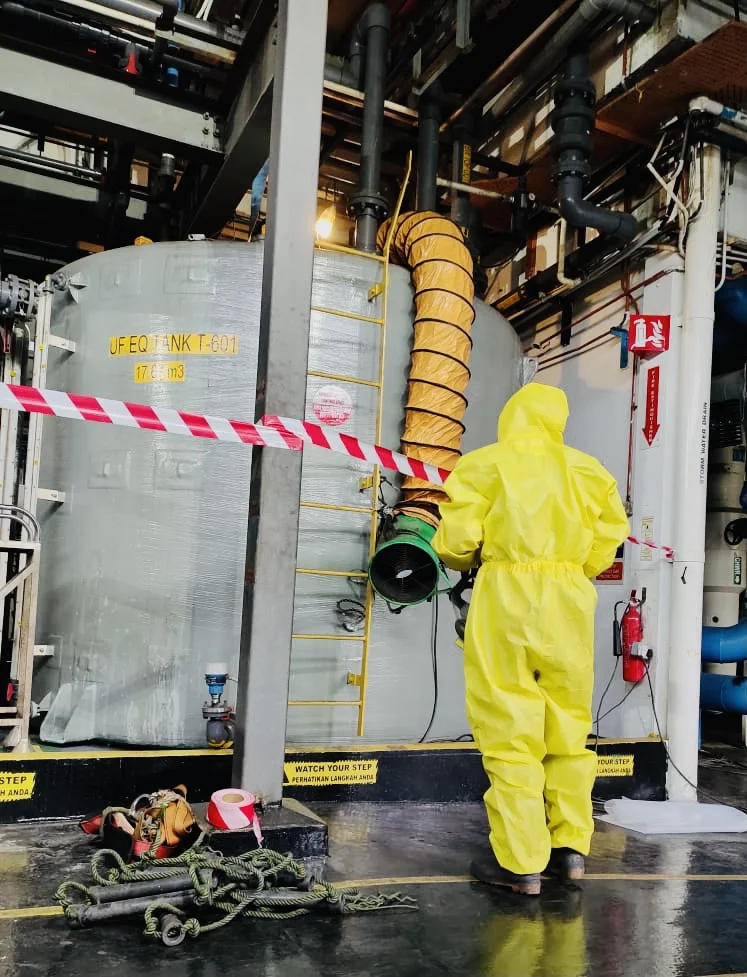 Instead, a service provider that focuses on safety actually gets the job done faster - because they strictly document their procedures and generously invest in the latest technology and equipment.
Myda Risk & Safety Sdn Bhd is well-known in the tank cleaning industry for their superb commitment to safety and compliance with professional standards.
Our certificates speak for themselves.
Advanced safety procedures and well-trained personnel are what define us. With over 10 years of experience and serving 100+ clients, we have demonstrated superior expertise in serving our clients.
We are the only company in Malaysia primarily focused on industrial tank cleaning.
We set ourselves apart from the competition.
While other companies provide tank cleaning services as a secondary offering, we prioritize and specialize in one thing: delivering exceptional tank cleaning solutions for businesses.
Many service providers out there dabble in various services, from general workplace cleaning to tank manufacturing.
As a result, their attention and expertise are divided, preventing them from truly excelling as tank cleaning specialists.
On the other hand, we dedicate our energy and resources to constantly improving our tank cleaning techniques, ensuring that our clients receive the highest quality service available in the nation.
Precision and perfection in tank cleaning is our bread and butter.
This unwavering commitment to being the best in the business sets us apart from the rest.
When you choose Myda Risk & Safety, you're choosing a partner who understands the unique complexities and requirements of tank cleaning, and who is wholly dedicated to delivering unmatched results for the past 10 years.
Experience the difference of working with a company that lives and breathes tank cleaning - choose Myda Risk & Safety Sdn Bhd for all your industrial tank cleaning needs.
Contact us today to learn more and experience our specialized expertise firsthand.
Frequently Asked Questions
Contact us using the form below so that we can help improve your operations to maximum efficiency.
Or dial in our hotline number: 60199325632
Our Office
No 27, Jalan Nilam 1/9, Subang Hi-tech Industrial Park, 40000 Shah Alam, Selangor
Our Socials