Chemical Tank Cleaning Services Malaysia
Protect your workers, assets, and profits by transferring all the risks of chemical tank cleaning services to certified professionals.

Ensure Compliance With Safety Standards With Chemical Tank Cleaning
Our team of tank specialists and industrial safety experts will ensure the continued operation, safety, and adherence to industrial standard laws, especially the Industrial Code of Practice 2010.
We offer assistance for both single projects and regular scheduled tasks, including testing, cleaning, and maintenance.
Myda Risk & Safety Sdn Bhd is well-known in the tank cleaning industry for our superb commitment to safety and compliance with professional standards.
Why Choose Myda Risk & Safety Sdn Bhd?
Oil Tanks
Fuel Tanks
Boilers
Acid Tanks
Alkali Tanks
Solvent Tanks
Petrochemical Tanks
And other types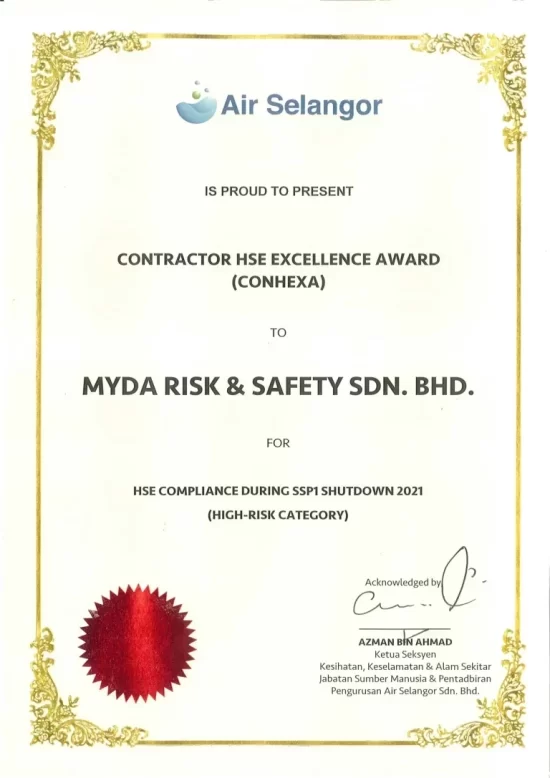 Our Certifications
We are certified and recognised by public authorities and private entities.
Frequently Asked Questions
Contact us using the form below so that we can help improve your operations to maximum efficiency.
Or dial in our hotline number: 60199325632
Our Office
No 22, Jalan Opera J U2/J, Taman TTDI Jaya, 40150 Shah Alam, Selangor
Our Socials
Why Choose Myda Risk & Safety Sdn Bhd?